(un)making monuments: moving towards justice
august 2020
by PATRICIA EUNJI KIM, PHD


Around the globe, communities and cities are taking down statues that commemorate the figures and systems that enabled slavery, genocide, colonialism, and imperialism. Along the coast of what is now California, Native tribes and their allies call for the removal of statues to Junípero Serra; in Kansas City, activists concealed a statue of Andrew Jackson with tarp; in Bristol, England, protestors toppled a statue to the human trafficker and enslaver Edward Colston; in Philadelphia, PA, a statue and mural to Frank Rizzo are now gone.


Although the movement to confront our monumental landscapes is not a new one, the COVID-19 pandemic and the global protests for Black Lives have unmistakably heightened its urgency. The simultaneous, overlapping struggles against the coronavirus and state violence shine a spotlight on the contours of racial, gender, and economic inequality, revealing its tentacular reach into our institutions of governance, health, education, and more. So much so, that people across backgrounds have started to think collectively about 'how we got here' and 'where we should go,' prompting many to begin the necessarily difficult process of reckoning with the insidious histories that have shaped our present systems, and even our own selves. As we have seen over the past couple of months, monuments are an indispensable arena for the kind of historical work that is central to political resistance.

Meanwhile, defenders of Jackson, Columbus, and their ilk lament that the removal of their likenesses threatens important narratives of American history, thus impinging upon the sanctity of American heritage. Indeed, monuments can be useful markers of historical events, figures, and dates, all of which seem safely relegated to the time-space of the past. But as the controversies around monuments demonstrate, much more than historical remembrance is at stake.

Many of the historical monuments that embellish US cities mimic images of the Greco-Roman past, comprising of "lifelike or realistic representations" of men in marble or bronze that seem impervious to physical erosion. Modern ideas about the Classical past helped authorize the creation of Western empires while informing the democratic values of self-determination that have been historically reserved for white men. Unsurprisingly, then, images of white supremacists, colonizers, and enslavers who have and continue to endorse American imperial and state violence around the globe copy such monumental forms. These monuments dotting the American landscape reinforce a direct connection with this mytho-historical idea of the Classical past, while imposing on their viewers a national history written for and by 'heroic' men.

Yet this immutable sense of history and the identity of the represented person are only a fraction of the monumental equation. If, as John Ma argues in his work on ancient public statuary, the historical identity of the portrait is only "half the point," then who commissions and constructs the monument as well as how different people react to it are crucial aspects of meaning-making as well. This generative analysis applies to all types of monuments, including arches, plaques, flags, and even ephemeral spectacles, which are sites that expect and depend upon public engagement and activation regardless of their physical shape, size, or material. Therefore, monuments are much less inert symbols as they are pregnant sites in which identity formations emerge and political groups sustain themselves by imbuing their own values to them.

Indeed, the most widely understood feature of monuments is that they not only tell certain perspectives of history, but also embody a set of principles that change depending on the viewer. As we have witnessed throughout the past few months, a single monument has the ability to reflect contrasting ideas and values. A Confederate statue might symbolize anti-Black racism and the residual effects of slavery to one group of people, and a dangerous construction of 'Southern heritage' to another. Even the latter defense of racist symbols understands that monuments possess a kind of corporeality that subtends the continuous processes of subject-making and self-validation; it is this particular feature of monuments that makes ongoing, public debates around their removal a political necessity.

Monuments are often physical things that require preservation, maintenance, reproduction, and/or circulation in order to survive. A report published in 2018 by the Smithsonian and the Investigative Fund at the Nation Institute estimates that over $40 million taxpayer dollars went towards the upkeep of Confederate monuments in the past decade. Meanwhile, the construction of the U.S.-Mexico border wall has blasted parts of Arizona's Organ Pipe Cactus National Monument, destroying rare plants and animals as well as the sacred ancestral grounds of the Tohono O'odham Nation. Through the calculated maintenance and destruction of select monuments, the state not only demonstrates whose livelihoods matter, but also attempts to forecast the political futures of different coalitions, communities, and groups of people. Statues to colonizers and enslavers justify past actions that constructed a system of power that thrives off of inequality, while their preservation and reproduction serve a politics whose survival depends on the disposability of Black, Indigenous, and other people of color. This vision of history and the future has seeped into the physical domains of the present, thus informing the monumental urgency to topple statues to the stewards of state and imperial violence.

Regarding the present moment of truth-telling and resistance, Hortense Spillers writes that reckoning with our systems of injustice may hopefully lead to new futures. If, as Spillers argues, this 'apocalyptic' moment of "precariousness might well be transformed and instead opened onto other possible worlds," then public art is a vital tool for justice.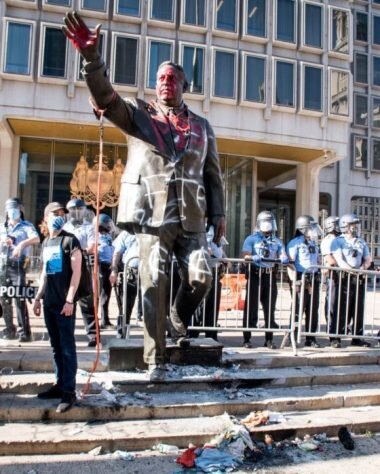 Indeed, artists, activists, and collectives in collaboration with their local communities have already begun to produce monument proposals in which creative speculation meets careful historical research. Some conceptualize new monuments, like Alisha B. Wormsley's There are Black People in the Future (2019). Other possibilities include ephemeral performances in which artists use their own bodies as monuments, like rafa esparza's bust: indestructible columns (2019) in Washington, D.C. or Than Tsídéh of the Ohkay Owingeh Pueblo and his dance (2020) atop the pedestal where a bronze statue of Spanish colonizer once stood in Alcade, NM. Likewise, some scholars work to decolonize knowledge systems by employing new methods that are informed by principles of justice and equity. As an art historian and curator whose family survived the brutal force of a violent empire, these principles inform my own work, which centers the historical perspectives of royal and non-royal women from Africa, Asia, the Middle East, and their diasporas. I believe that historical work highlighting these kinds of narratives can foster necessary conversations that inform the processes of creating systemic change.

Ultimately, at stake in our national debate on monuments are serious issues of dispossession, justice, and political recognition. The difficult work of unmaking and making monuments is vital for building more equitable futures.

— — —

Patricia Eunji Kim, PhD is an art historian, curator, and educator based in New York City. She is Assistant Professor/Faculty Fellow at NYU's Gallatin School of Individualized Study and Assistant Curator and Communications Director at Monument Lab. She is also creator of Queens Who Rule, a platform that centers history and art from the perspectives of women from Africa, Asia, the Middle East, and their diasporas. IG: @queenswhorule; Twitter: @lowerendtheory; www.patriciaekim.com