common room:
sam and sade mims

February 2021
by David Eardley

To share a space is to find the truest form in one another. In our new series, Common Room, we'll explore the ways in which sharing a home creates opportunities for creativity, joy, challenges, and shared goals.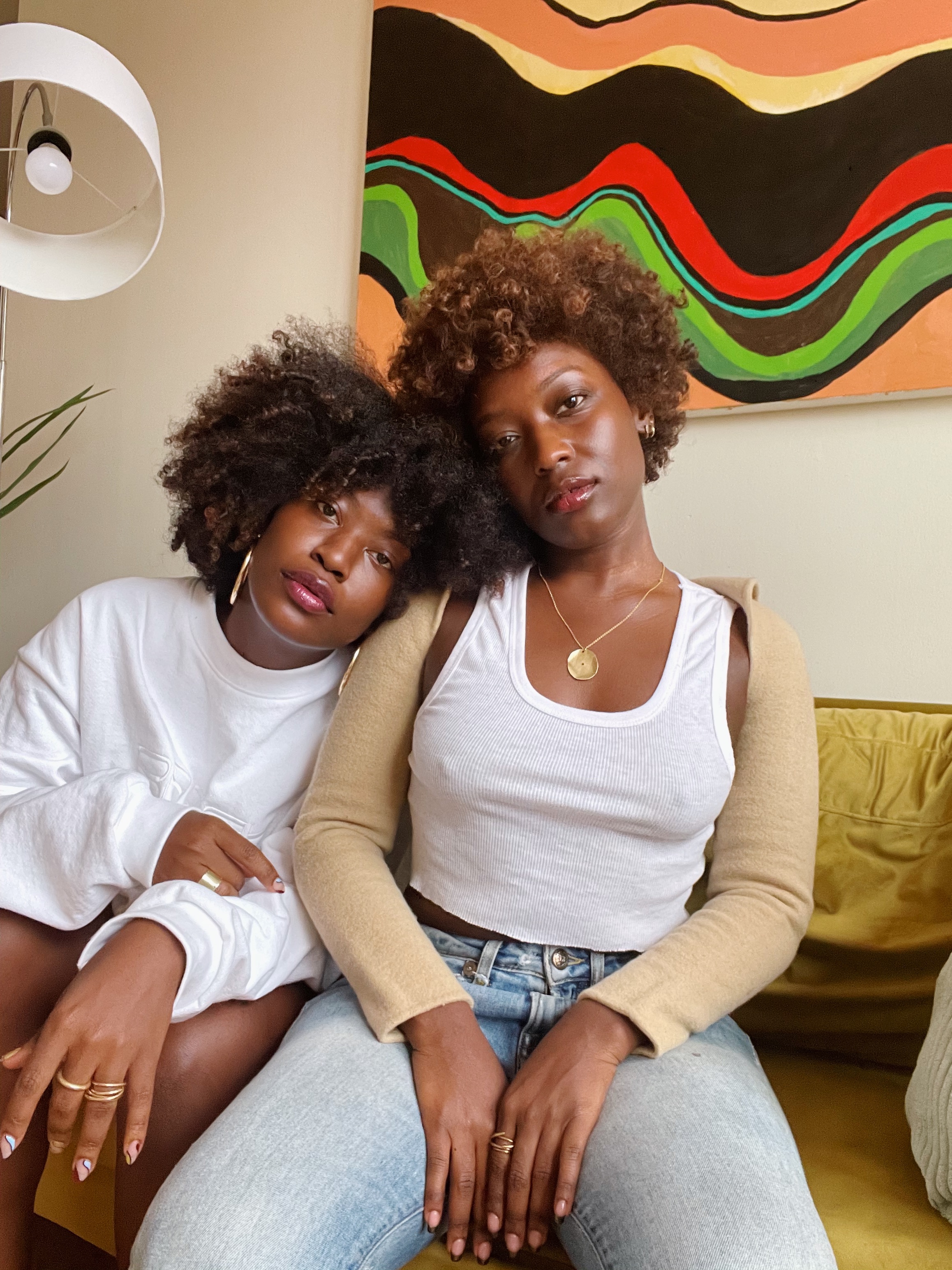 For twins Sam and Sade Mims, their two-bedroom apartment in Brooklyn has become both a launching pad for their personal brands and a sanctuary from the chaos of the world. For Sam, a skin therapist, the space doubles as a set for the variety of videos she produces for her own brand, Dermasaa, and her collaborations with various skincare brands. For Sade, an artist and founder of EDAS, the home has been ground zero for getting inspired and growing her company. I've had the pleasure of visiting Sam and Sade's home in person some time ago, and have a great appreciation for the details and touches they bring that speak to their personalities and taste. For this interview, I asked the sisters to share their view of their shared home, as well as their thoughts on living together.

What's the feeling in your space today?

Sam: Today was really calm and quiet. I work from home four days out of the week and while I spent most of the day inside, there was a lot of silence. Sade has been consumed in Fashion Week viewings, so I've had a lot of time alone.

Sade: Currently, our home feels lived in and light. I love how we balance those two feelings these days. We cleaned up yesterday so it has this really fresh feeling today, but it also has the perfect amount of "messiness" that feels like two busy women have left their mark. I love that.



How did your common space come to be?

Sam: I moved from South Jersey to NYC back in 2011 and Brooklyn Heights was the first neighborhood I lived in - Sade was living in Staten Island at the time with friends. I was there for 2 years and in 2013, Sade, an old friend, and I found a beautiful, spacious 3 bedroom apartment in Bedstuy Brooklyn. Eventually our third roommate moved out, leaving Sade and I to take over our current space. We've gone through many decorative phases throughout the years but it's a representation of our lives and who we are/were at the time.

One of the best parts of sharing a space is:

Sam: Companionship. It's really nice having someone there to share ideas, company, beliefs and bills with (lol). That's been a plus for sure.

Sade: Having a second and third opinion and always being able to count on her. She's literally always there!

The most challenging part of sharing a space is:

Sade: That she literally is always there lol.

Sam: Wanting total space and the need to be alone at times can be the most challenging part of sharing space with someone else.




Tell me the story of one of your favorite objects.

Sade: There's this amazing wooden sculpture that lives in our common area that our mother gifted us. We grew up with this figure and I always really loved how it honored the body in a sensual and artistic way.

One project you have in mind for the space is:

Sam: Redecorating our office. It's been a project we've started in the beginning of COVID but have been slowly working on.

Sade: Getting our office in shape. I currently have my items everywhere.

How does your home influence your creative energy?

Sade: I wake up inspired to work here. I also feel like the space makes me more aware of my stillness. I find that I sometimes zone out in this space and that's really needed for my creativity.

Sam: Within the last year we've added so many small enhancements to our home. Changing your light fixture and adding shelves and new art to your walls can make all the difference. I wake up feeling inspired to create and birth new ideas because of the energy that has been cultivated in our home.



One thing you hope your home shows to others is:

Sam: I hope our home reflects our personalities. Sade and I are both Aquarius women and we are very eclectic, sensual and free thinkers. I hope in every detail down to the color of our furniture, others can feel the type of women we are.

Sade: I hope that it shows that we are fun and intentional women.

What is your best piece of advice for building a home together?

Sam: Do it with someone you truly love and share similar taste with. It makes living together so much easier ;)

Sade: Find someone who gets you!