good goes on

june 2020
by ZOË RAYN

Form follows feeling is the mantra that echoes throughout Suchi Reddy's approach to life and design. From the beginning of the renowned architect's career, Reddy has made a conscious and concerted effort to remain shamelessly in touch with her emotions, subsequently letting them flow into her creative processes.




Suchi describes her approach as human-centric with "the belief that the quality of space evokes emotion and that good design, calibrated carefully to the human, influences well-being, creativity, and productivity". A natural progression considering Reddy's early introduction to her craft. Growing up in India, enveloped in philosophy, textiles, and ornate gardens it didn't take long for her to realize the power architecture has - its ability to shape people and their experiences. Suchi notes this epiphany of sorts came around the age of nine or ten when she noticed her childhood home affected her deeply -- I knew I was different from my friends because my house was different. As I grew to be an architect, this feeling of the importance (of architecture) in shaping humans became a conscious force in my design. In 2018, I was speaking at a conference at the Academy of Neuroscience for Architecture, and I first spoke publicly about codifying my approach to design in this mantra "form follows feeling".

With this at the forefront of her practice, she has gone on to develop incredibly moving spaces, installations, and larger projects -- notably A Space for Being with Google, 71% for MoMA PS1, The Connective Project, which went on to win a number of awards, including the AIA Brooklyn + Queens Design Excellence Award, among many others. Most recently she has turned her attention to sustainability, not just in her professional life, but at home too, as spotlighted in the new EILEEN FISHER campaign, Good Goes On.

Sustainable and ethical consumption continue to be major topics of discussion, with brands of varying sizes and ethos cashing in on the hot button phrases that subconsciously register with consumers. More recently, however, there has been a shift in the narrative as sustainability is recognized in other areas of our day-to-day. No longer exclusive to material objects, but rather our actual way of life. Creating boundaries, taking pause, questioning hustle culture, and prioritizing self-care have become topics for our daily consideration. Creating a healthy work-life balance isn't easy - especially during a worldwide shelter in place order - but that isn't stopping many from abandoning the 'go-go-go' mindset in pursuit of slowing down, and, as Suchi puts it, making space for the home to be an oasis; I never bring work home. My home is my sanctuary to reflect, to be with myself and with others, and to process the happenings of the day. As an artist and a creative person, I am always thinking, always absorbing, and eventually, all my interests find their way into my work, but it's important to me that the way they show up in my work be spontaneous and not premeditated. I believe in the absolute importance of giving the mind space and time to wander.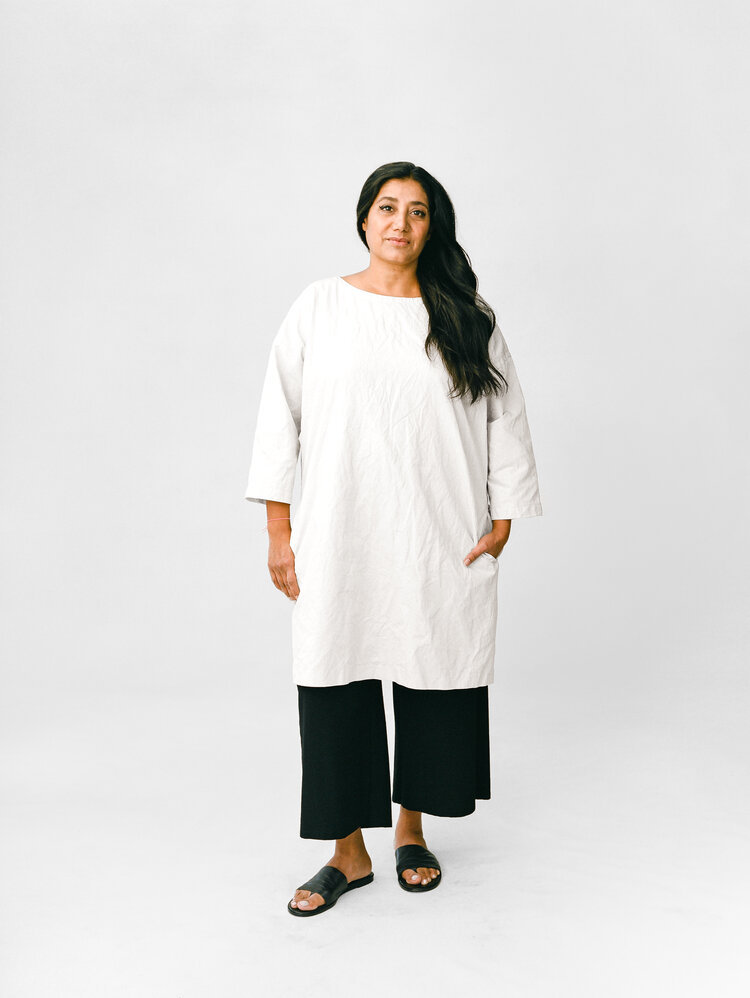 Seemingly counterintuitive when compared to the assumed vision of productivity, so what does this look like in practice? It goes without saying that adopting a slower-paced lifestyle will be different for everyone. Maybe it's as simple as not answering emails after five o'clock, or integrating a ten-minute meditation session into your morning routine. Whatever the case, taking the time to just simply be can have an incredibly positive impact on other areas of your life, including your work. In Suchi standing on stage and sharing her mantra form follows feeling with an audience, she made a statement for prioritizing oneself and those around us, confirming the creative freedom born from emotional awareness.

"The purpose of architecture is to serve and elevate the feelings of its users. I design with an eye to amplify the potential of architecture and to create these feeling-states. So in every project, and every space, I try to be clear about how I want someone to feel it - then work with the proportions, materials, light, texture, and other elements to achieve that goal. Subjective as the word "feeling" may seem, I do believe that the commonalities in our reactions to the environment around us are the major actor in our emotional lives."